Book 1 in Age of Steam series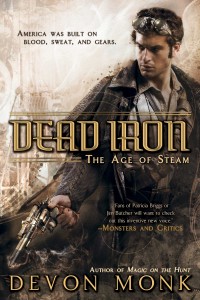 In steam age America, men, monsters, machines, and magic battle to claim the same scrap of earth and sky. In this chaos, one man must fight to hold on to what is left of his humanity…
Although the devisers have civilized the east with their contraptions, civilization hasn't tamed the frontier that bounty hunter Cedar Hunt rides. Cursed by lycanthropy and carrying the guilt of his brother's death, he's a hard man for hire. But when a trio of miners offers him the possibility that his brother may yet survive, Cedar isn't going to haggle for payment. All he has to do for them is find the Holder: a powerful device created by mad devisers from the realm of the Strange.
The Holder is in the hands of Shard Lefel, a dandified railroad tycoon who's come to Hallelujah, Oregon, promising a civilized tomorrow. But what Cedar cannot know is that Lefel is an ancient Strange banished to walk this land for centuries. Now nearing the end of his sentence, Lefel is desperately searching for a way to fend off his own mortality—and the Holder may be the key.
In a land shaped by magic, steam, and iron, where the only thing a man can count on is his guns, gears, and grit, Cedar will have to depend on all three if he's going to save his brother and reclaim his soul once and for all….
Devon Monk writes the Allie Beckstrom urban fantasy series, the Age of Steam steampunk series, and the occasional short story. She has one husband, two sons, and a dog named Mojo. She lives in Oregon and is surrounded by colorful and numerous family members who mostly live within dinner-calling distance of each other. She has sold over fifty short stories to magazines and anthologies in five different countries, including a Year's Best Fantasy collection. When not writing, Devon is either knitting strange things, remodeling the house-that-was-once-a-barn, or hosting a family celebration.
Hi everyone! Shelley here, and today on the blog we've got what I think is a special treat for you...an interview with the very talented Devon Monk. Devon lives, writes and knits in my hometown, Salem Oregon. Her highly successful urban fantasy, Allie Beckstrom, Magic series is based in our neighboring city, Portland.
To say this state, as well as Washington, has it's share of fantastic paranormal fiction authors would be an understatement. We are a hotbed for paranormal activity...real and imagined. To most of us here, that's not a bad thing. We thrive on the weird and unexplained. Saying that Devon is very talented is also an understatement...she's brilliant. She's also kind, generous and very funny.
Following the interview will be a review of Dead Iron, the first book in her latest series, The Age of Steam. It's fresh and exciting and it's STEAMPUNK! But that's not all...we're also giving away a signed copy of the beautiful paperback!
So without further adieu, we introduce to you, Devon Monk; wife, mother, author and knitter extraordinaire...
Shelley: I absolutely love the characters in Dead Iron. Everything about them is fascinating, including their names. Is there meaning behind the choices for each or did you just pick names that sounded good to you?
Devon: I've always loved old-timey names, and was very careful to choose names that not only fit the characters, but also reflected the time they lived in. Some came to me quickly, and some I found when searching old census reports from the 1800's.
Shelley: I know you live, write and knit in Oregon. Did you grow up here? What do you enjoy most about our beautiful state?
Devon: I did grow up in Oregon! One of the things I most enjoy about our state is the clouds. Maybe that's a strange thing to choose, because I could pick the ocean, mountains, dessert, forests, rivers, bountiful produce, or awesome cities and towns--all things that I love. But even as a child, I realized I quickly grow tired of a plain blue sky, and find clouds much more interesting.
Shelley: The Age of Steam is vastly different from your Allie Beckstrom urban fantasy series. What gave you the notion to try a steampunk novel?
Devon: I had the idea for the books for quite a few years but had never quite put it together in this way. After I'd been writing the Allie Beckstrom series for awhile, I thought it might be fun to try my hand at this story again. With my agent's encouragement to go full-out steampunk on it, the whole piece finally clicked together.
Shelley: How much did you enjoy writing this novel? Was it difficult, require a great deal of contemplation or did it somewhat write itself?
Devon: TIN SWIFT was a difficult novel to write, mostly because it seemed to write very slowly and needed a lot of research along the way. I had hoped to zip right through it in a couple months or so, but the words came at a certain pace and nothing I did seemed to change that. However, once it was done and I read through it for revision, I was surprised by how quickly the story flows, and how action-packed it turned out to be.
Shelley: Can you tell us about any future projects or WIP's?
Devon: I'm currently working on a couple different books, but won't know where those will go until I get further into them. Also, I have a new urban fantasy series, which I'm tentatively calling the BREAKER series coming up, and hope to continue the Age of Steam series too.
Shelley: What or who inspires you? In writing and in life?
Devon: I'm inspired by the whole human story. We are capable of feeling so many emotions, enduring such hardship, loving so deeply, and finding joy in the silliest moments. We are also capable of terrible and merciful things. Everything about life seems to spark stories that I yearn to tell.
Shelley: What was the last book you read. How would you rate it and why?
Devon: I don't really rate books, but I recently read HUNGER GAMES and enjoyed it. Why? Smooth writing style, compelling concept, good world building, characters I could care about, nice scene and chapter structure, great conflicts/action/tension, satisfying ending. I tend to read with a writer's eye, always searching for the "how did the author DO that?" bits and particularly love a book with good mechanics that lets me really fall into the story for the pure pleasure of reading.
Shelley: Is there anything you have to have before you sit down to write?
Devon: Nope. I'll write anywhere on anything, rain or shine, with or without, day or night, silence or song.
Shelley: Did Dead Iron and Tin Swift require a lot of research?
Devon: Yes. Writing steampunk means I must not only research the historical details of the time, but must also delve into the mechanical and scientific research so that all the cool steampunk devices have at least some feasibility. Although I'm taking wild literary license with the science and historical aspects of the book, I'm also very aware of the actual events and inventions of the time, and how they affect the fictional world and story that I'm building.
Shelley: What is your favorite dessert?
Devon: All of them! I have yet to meet a dessert I didn't like. :)
Shelley: Is music motivation or a hindrance? What do you like to listen to?
Devon: It depends on the project and the mood I'm in. Sometimes I sit in total silence all day, sometimes I play my favorite songs, or songs that feel like the story I'm creating. Sometimes I put on my headphones and forget to start the music for hours.
Shelley: Besides knitting, how do you spend your downtime? You do have downtime?
Devon: I do have downtime. Mostly I spend it doing laundry. ;) Well, I also work in our yard, go to movies, attend a book club, try to catch up with friends, get in several walks or jogs a week, go to writing or genre conventions, spend time with my family, and read.

Shelley's Review of Dead Iron
"Seems you're not that common a common man after all."
~Alun Madder to Cedar Hunt
This quote speaks volumes about the entire story and Monk's incredible cast. These are some of the most endearing and imaginative characters I've met in a long time. Tough, resourceful and ruggedly handsome, Cedar Hunt is not your everyday bounty hunter. He wrestles a beast within and a past filled with pain and regret. He spends his time helping those in need and trying to get by without hurting any innocents who should cross his path. For Cedar, all roads lead to finding a cure for his curse and settling a score.
Mae Lindson is an enchanting and talented witch who will do whatever it takes to see her husband...one last time...and Jeb is just as determined. This is true love folks. Their story is pure magic. Literally an undying love ...poetic, inspiring and frightening.
At times the side characters steal the scene with their sarcasm and unexpected humor. You can't help but fall for their many quirks and charms.
With the Madder brothers, it showcases their very significant role in this race against time and supernatural forces come to take all this small town has to offer. These boys know how to enjoy a crisis like impending doom. With gusto, ingenuity and a bit of magic, they create the ways and means to help Hunter and Mae take care of business. And then there's Rose Small. She's known as the town freak. As an unwed young adult still living with her parents, she's innocent and wild--with a mind of her own. She's a bit touched or so think the Townspeople. In actuality, she's smart, brave and knows a thing or two about the Strange.
Each of these characters has a fascinating back story that directly effects the roles they play here, and they only get more entertaining as the story unfolds.
It's a classic tale of good against evil tossed in to the new world of steam and iron in a young Oregon territory. As my first steampunk read, I devoured every detail Devon threw me. The amount of research she put in to make this as realistic as possible and entirely magical is evident in each passage. Of course she takes creative liberties, but that is exactly what they are; creative...innovative...
intriguing...downright fun and all at once terrifying. If you think machines can't be scary, you thought wrong. The matics (as they are referred to), are not only crafted from iron and gears, but they also carry a special liquid, discovered by the Strange and other beings not of this world, that makes them nearly indestructible and downright deadly. Nevermind that they also work with a bit of magic from Shard Lefel, a dangerous and filthy rich railroad tycoon who has more up his sleeve than anyone realizes. His evil knows no bounds. He will do whatever it takes to get back home...he'll destroy heaven and earth and everything in between to make sure that he does.
This is just the beginning. There are more fascinating characters that add to the mystery and complexity of this out of the ordinary paranormal fantasy. I won't go in to any more detail, I want you to read and discover the brilliance of it all on your own.
All in all, this is a gripping tale of love, loss, hope and determination that grabs you from the first page and keeps you guessing, as you travel back to a time full of invention, innovation and creative genius that could rival some of the great minds of today. Totally engaging, smart, humorous and a thrill a minute. Dead Iron will captive and enthrall you. You will be on the edge of your seat to the very end, and begging for more. For me, this was the perfect introduction to the ever popular steampunk sub-genre and I can't wait to sink my teeth into the sequel.
Where to find more info:
Where to purchase Dead Iron:
Also be on the lookout for book 2 of The Age of Steam: Tin Swift
Book 2 in the Age of Steam series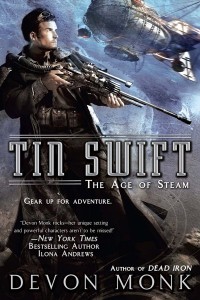 In steam age America, men, monsters, machines, and magic battle to claim the same scrap of earth and sky. In this chaos, one man fights to hold on to his humanity—and his honor…
Life on the frontier is full of deceit and danger, but bounty hunter Cedar Hunt is a man whose word is his bond. Cursed with becoming a beast every full moon, Cedar once believed his destiny was to be alone. But now, Cedar finds himself saddled with a group of refugees, including the brother he thought he lost.
Keeping his companions alive is proving to be no easy task, in part because of a promise he made to the unpredictable Madder brothers—three miners who know the secret mechanisms of the Strange. To fulfill his pledge, Cedar must hunt for a powerful weapon known as the Holder—a search that takes him deep into the savage underbelly of the young country and high into the killing glim-field skies defended by desperate men and deadly ships.
But the battles he faces are just a hint of a growing war stirring the country. To keep his word, Cedar must navigate betrayal, lies, and treacherous alliances…and risk everything to save the lives of those he has come to hold dear.
We hope you enjoyed the interview and the review. Now on to the goody! We like to keep it simple here...just fill out the rafflecopter form. Feel free to leave a comment for Devon...or us! We're certain she'll drop in and leave a comment or two of her own. She's cool like that! :)
Thanks for stopping by! GOOD LUCK and happy reading! ~Shelley and Kathryn
a Rafflecopter giveaway