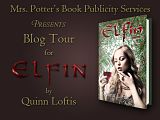 Before tonight Cassie Tate's biggest concerns were whether she could pass Algebra and how she was going to keep Elora, her best friend, from dressing her in a skimpy fairy costume for Halloween. Her feet were firmly planted in suburban reality and she had no reason to believe her life would be anything but that of a typical teenager. That is until tonight, when Cassie saw something that no human was ever supposed to see; in the blink of an eye she was thrown into the world of the Light and Dark Elves.

He comes from a realm where light and dark have fought for millennia. He is of a race known to humans only in myths and legends. The darkness that lives inside him is a part of both who and what he is and it makes him the most gifted spy and assassin in the history of his time. His life is not his own; he lives in the service of the Dark Elf King. He slays who he must, has mercy on no one, is relentless in his hunt, and never tires of seeing his prey fall. He is Triktapic, assassin, spy, most feared of the Dark Elves.

Now, in the midst of his King's complicated plans to expand the Dark Elves' holdings into the mortal realm, for the first time, Trik finds his loyalties divided. For no Elf, Dark or Light, can turn away from their Chosen.

Unbeknownst to the mortal realm, the battle between Light and Dark is being brought to their doorstep. The only one who can keep it at bay holds darkness in his heart like a lover, and the one who can sway that heart must decide if she can look beyond his black past, beyond his evil nature and see the man he is destined to be.

The question must be asked, does love really cover a multitude of sins? Can true love actually conquer all or will his darkness consume those around him until all that stands is an assassin with the blood of the mortal realm on his hands?
OMG!!!! Totally and utterly freakin blown away!!!!
I just can't put it all in words yet... But FAN-FREAKING-TASTIC.....
Ok, I have had time to process everything and I have to say first that Elfin is a book that I didn't want to put down for one single minute.
Although I was forced to, I was constantly thinking about it...the fabulous characters, the mystical world of the elves, the intriguing and mesmerizing story that draws you in from the very beginning and holds you captive til the very end...
Quinn Loftis is such a brilliant talented writer and her Grey Wolves series has captivated me already and so when she announced a new series around elves, I was ecstatic!! I knew she was going knock this one of the ballpark and boy did she ever with Elfin!!
Meeting Cassie, a human girl, that is pure of heart, compassionate, considerate, and just an overall good girl leads us in to the ensuing battles within the elves world of light and dark. And who better to need such a bright star in their life than none other than the dark elf Triktapic...aka Trik. Their first meeting was hot and magical. And after that, OMG...all I wanted was more of these two together.
But, with the darkness trying to take over, we are caught up in a whirlwind of secrets and struggles that is gut-wrenching, nail-biting, sitting on the edge of your seat events that ultimately leads you to that moment of tears..Yes, I cried a little...I just couldn't believe it was going to go this way....BUT...my ray of sunshine came through the dark clouds and a perfect ending appeared...AND...it left me wanting soooo much more...THANK GOODNESS that there is going to be a book 2...I cannot wait to get more of this couple and exciting characters introduced to us in Elfin.
A work of genius by Quinn Loftis...A magnificent storyline, an exotic, beautiful world, and the enchanting, alluring characters are wrapped together in this outstanding enjoyable tale....
HIGHLY RECOMMEND!!!
a Rafflecopter giveaway